If you are a local business which has an online presence, you might be looking to add Google Maps to your WordPress website so that people can find your establishment easily. Here is how you can do that.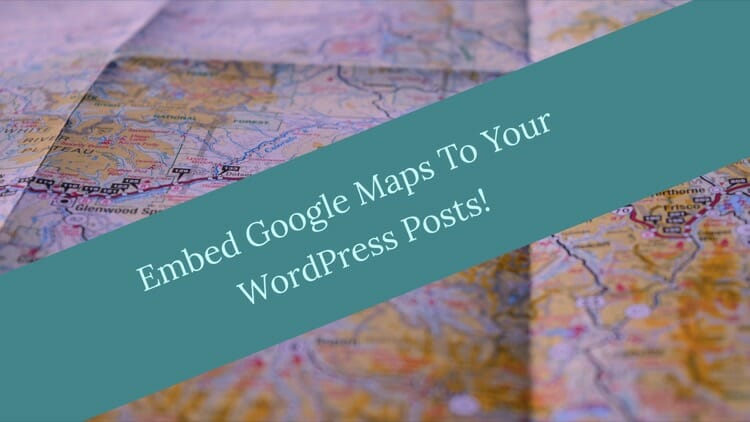 There are many ways you can add Google Maps to your WordPress website but first, take a look at why exactly you want to do that.
Why would you add Google Maps to WordPress
Google Maps allow people to easily find locations right from the web page they are in. So if you are an offline establishment or want to promote any local address, you can use Google Maps on your site.
The benefit is that people can plan their trip right from your site or get a proper idea about your location. They can add your location to their saved maps, which gives them easy access to your establishments later on.
So it's a good way to promote the establishment and gain some repeat customers.
Directly Add Google Maps to WordPress Posts
Google Maps allows you to embed or add any maps in web pages. You can search your location and click on the share button to get the embed code for that location.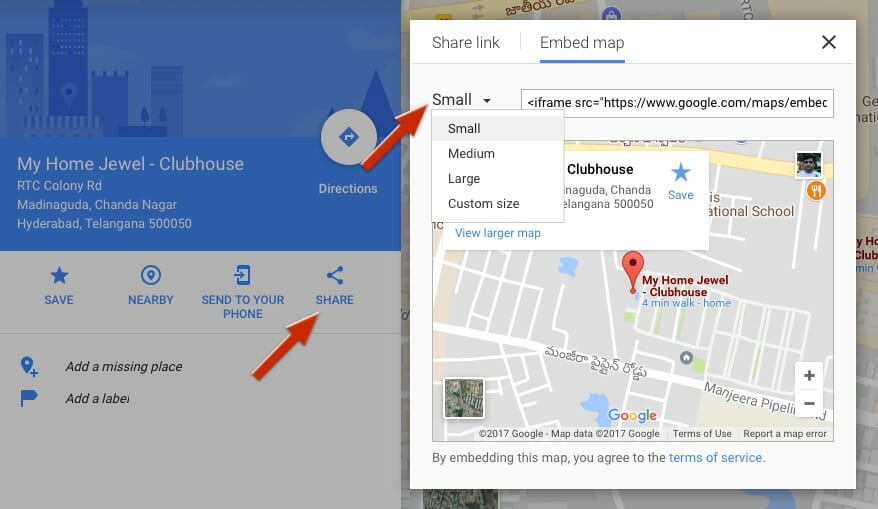 You will get a pop-up which allows you to get a share link or embed code. There are some basic customizations available in the embed map option, you can select the size of the map which you want to embed. It doesn't have any other options for customization so just select the size, copy the code and paste it into the text tab of your WordPress editor.
This can be a workable solution in case you only need to add a single Google map to WordPress page or post. If you need to add maps to multiple pages, this becomes cumbersome.
If you have to go back and update your address, you need to get the new embed code and update all your posts with the new code, very time-consuming.
Use Google Maps Widget WordPress Plugin
If you have to add multiple maps on your WordPress site, you should go through plugin route. This makes the map management much easier on your site and also easy to update.
Google Maps Widget is a plugin offered by Web Factory Ltd and available in WordPress plugin repository for free. It has some additional features which can be activated with a pro license key.
As mentioned by the name, this plugin offers a maps widget which can be used to add Google Maps to WordPress posts, pages, and sidebar. It adds a hidden sidebar in widget section which can be used to define your maps location and saves all the customization for them.
Speed
When you use Google Maps to get the embed code, it gives an iframe code with an interactive map which can slow your site. It loads all the interactive elements at the page load time which increases the page size. Page load speed is one of the key component these days so you need to be careful in terms of what can impact that.
With Google Maps Widget, you can opt for a thumbnail image rather than interactive map directly on the page. This means none of the maps script needs to load on page load and all of that work will be delegated to user interaction with the map.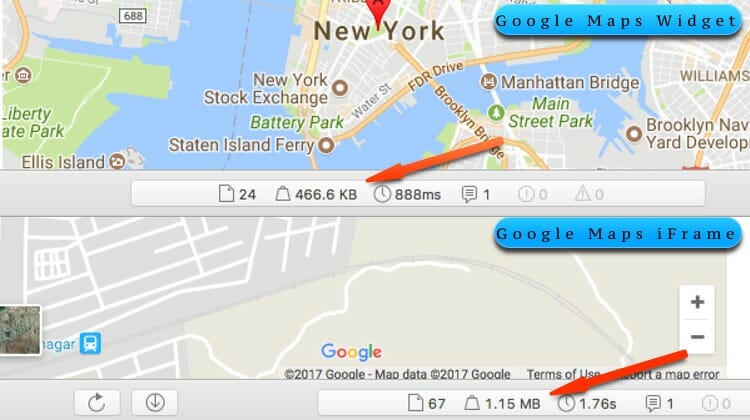 In our testing, we found that it reduces the page size by 60% and page load speed by half. These numbers are with a very basic text page with a single map embedded so your numbers might vary. But this is a good indication of the speed improvement by this plugin. It also makes less number of network request to provide a faster response.
Maps Shortcode
This plugin generates a shortcode for each map created so that you can easily add them to your post and pages. You can just copy the code from shortcode tab and paste in your WordPress editor.
You can define the width and height of the map in case you don't want to use the default setting for that maps. I would have loved a button in the editor to search through the saved maps and add it directly but it's not there. So you need to remember the shortcode but that's a minor problem. Once you add a shortcode it works like a charm and adds your maps to your posts.
Multiple Pins
There are many establishments which can have more than one physical location and if you want to display all your locations on a single map, you can do it with this plugin.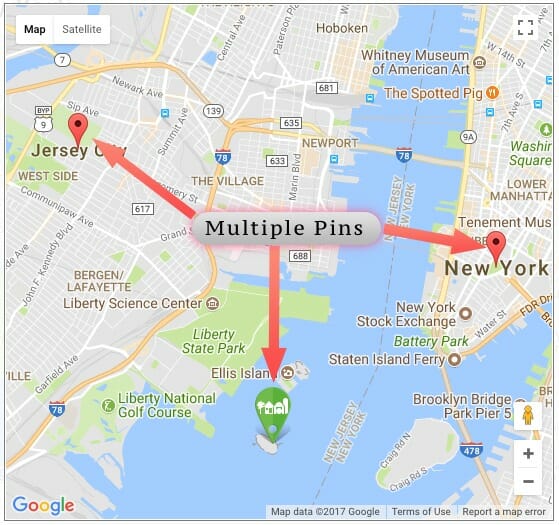 You will get 1500+ customizable pins library with pro version so you can change the look of the pins. You can match them with the type of establishments or highlight them differently on the map to grab attention. If you provide different services at different locations, you can highlight that with customizable pins.
Customization
Google Maps Widget plugin provide enough customization options which you will be missing in the embed code for maps. You can customize the look of the maps to match your site theme, map type, pin type and color, map language etc.
The pro license key adds a much more customizable option with pin library, map mode – directions, search, view & street view, skins, export and import features.
Is the Pro version worth it?
It depends on what you want to do with the maps on your site. If you promote a lot of local events or have multiple offline establishments, I would say it's worth to have the pro version.
Their basic license is a yearly renewable type but other options are a one-time fee for lifetime access. So if you want pro version, I suggest going for pro unlimited personal license as it will save you money in a longer run.
Get Google Maps Widget For Free
So with these tips, you can add Google maps to WordPress with ease. Do you use any other method to do the same, let us know in comments.